The Head of State organizes a fundraising for the rehabilitation of the Kamenge market
The Head of State His Excellency Mr. Evariste Ndayishimiye paid a support visit to traders in the burnt market of Kamenge on Monday, October 05, 2020. He was in the company of businessmen, insurers, bankers. They made a surge of solidarity, going up to 2 billion Burundian Francs for the rehabilitation of the market.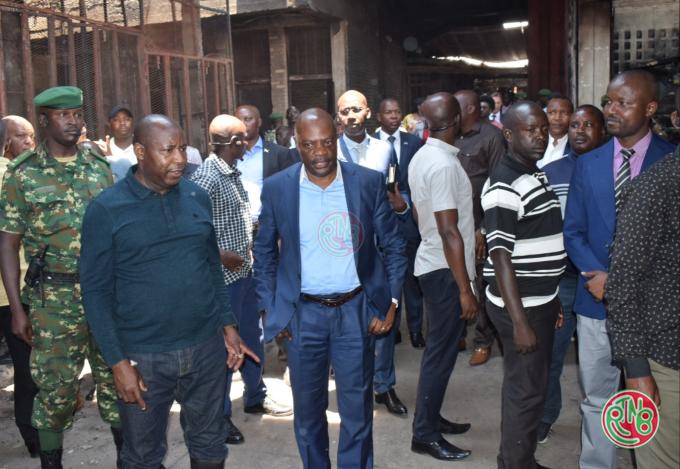 In his welcome address, the Mayor of the City of Bujumbura CP Jimmy Hatungimana welcomed the presence of the Head of State at this market according to the Mayor of the City, the presence of the President of the Republic at this market during these moments of distress comforted all the townspeople ".
In his compassionate speech, the Head of State His Excellency Mr. Evariste Ndayishimiye said that all Burundians are in commiseration in the face of this misfortune which befell their compatriots traders in this burnt market. He asked them to hold on in these times of great loss.
Based on the story of Job who was tempted by Satan but to no avail, he advised them not to despair in the face of this situation, explaining that the responsible and hard-working Government is not going to abandon them. The Head of State took this opportunity to ask any charitable soul to show a gesture of support for the rehabilitation of this market.
During this visit, businessmen, insurers, company bosses, companies and individuals pledged to support the traders victims of the fire that ravaged the Kamenge market. They have shown their desire for solidarity up to 2 billion FBU.
The Head of State asked the bankers who granted loans to these traders' victims of the fire to review their interests as they did in 2013 during the fire in the central market and to refinance them in order to be able to pay debts.
The Head of State has promised to set up a management and rehabilitation committee for the Kamenge market and to open a solidarity account to help these traders who have lost their property in this market. The association of banks has promised to review the employment contracts with their customers who were victims of this fire.
(Source: www.rtnb.bi)
More in this article:
The Head of State receives in audience the Minister of State, Minister of Foreign Affairs
The First Lady receives in audience the Resident Representative of the World Bank in Burundi
Joint review of the performance of the World Bank portfolio in Burundi
Visit to Burundi of the Minister of State, Minister of Foreign Affairs of the Democratic Republic of Congo
International Day for Disaster Reduction: "Disaster Risk Governance"
Recruitment of new police Officers
Media release consecutive to the Cabinet meeting held on Wednesday 7th October 2020