Communal Festival: "Let's unite our forces for the development of our communes"
Burundi celebrates the communal festival every first Saturday of August. For this year, the communal feast was celebrated around the theme "Let us join forces for the development of our municipalities".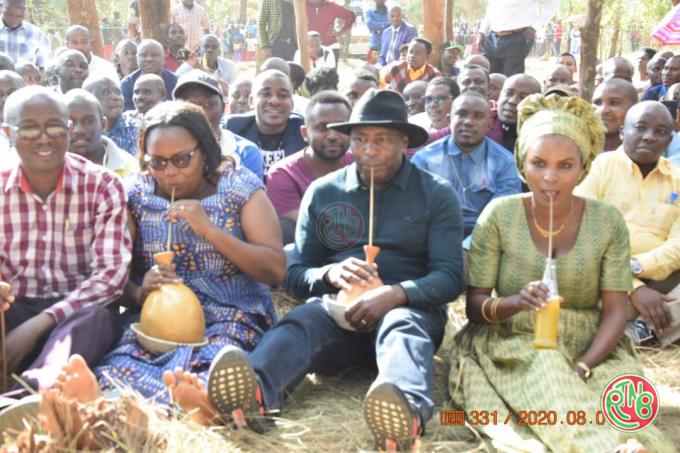 The Head of State His Excellency Evariste Ndayishimiye accompanied with his spouse, enhanced with his presence on Saturday August 01, 2020, the ceremonies of the National Day of the Communes which took place in his native Commune of Giheta in Gitega Province.
On this occasion of the celebration of the National Day of the Communes, the Head of State congratulated the newly elected Administrators of the Communes and urged them to be good leaders who will lead the population to development. He also thanked the Burundian population for having placed their trust in him by voting for him massively. His Excellency Evariste has pledged to be the commander in the battle against poverty.
The citizens of Giheta Municipality thanked the President of the Republic for having supported his native Commune. They then offered the President of the Republic two heifers as an acknowledgement for his involvement in supporting the Commune in development work.
The Vice-President of the Republic His Excellency Ir Prosper Bazombaza, meanwhile, went to his native commune of Rusaka in the Province of Mwaro at the Yanza center where the festivities of the Communal feast took place.
The Prime Minister CPG Alain Guillaume Bunyoni in the company of his spouse, joined also the population of the Muha Commune in the town hall of Bujumbura to celebrate the communal feast in conviviality. He asked them to be diligent at work and to observe the rules of good governance.
(Source: www.rtnb.bi)
Also in this article:
Ngozi: The Head of State meets elected officials and heads of services
First session of new deputies elected in 2020
Minister of Foreign Affairs and Development Cooperation meets the UN agencies in Burundi
Exchange and information session about COVID-19 response level in Burundi
Economic diplomacy at the center of the actions of the new Burundian Government
Meeting of His Excellency Ambassador Gérard NTAHORWAROYE BIKEBAKO with the Chairman of the SUMMA Company, Mr. Selin BORA
WHO grants medical products to the Ministry of Public Health and the Fight against AIDS