Covid-19: Prime Minister calls for respect of barrier gestures
As part of the implementation of the Head of State's measures to confront and eradicate the Coronavirus, the Prime Minister His Excellency Alain Guillaume Bunyoni calls on the Burundians to avoid crowds and not to unnecessarily frequent gathering backgrounds. This call was launched on Tuesday, July 7, 2020 during his visit to the mass screening site for the Coronavirus, erected at the ETS Kamenge in the town hall of Bujumbura. His Excellency Alain Guillaume Bunyoni appreciates positively the way that the population responds to this voluntary screening campaign.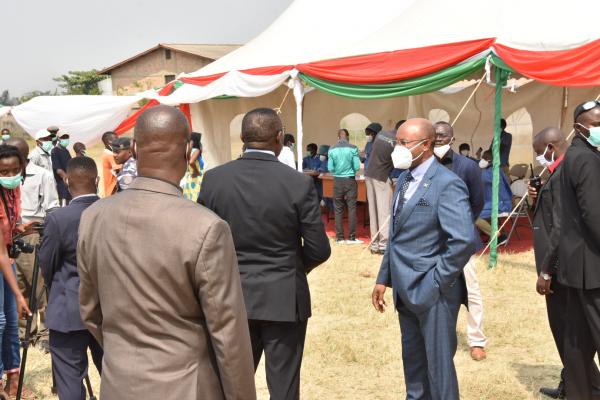 In his speech after the reception of the population and the screening process, the Prime Minister first congratulated the staff of the Ministry of Public Health and the Fight against AIDS, starting with the Minister, who works diligently day and night to deal with the Covid-19 pandemic.
At the same time, the Prime Minister of Burundi recalled that in order for this scourge to be eradicated, the prevention measures recommended by the Ministry in charge of Public Health must be strictly observed. For this, His Excellency Alain Guillaume Bunyoni asked the Burundian population to avoid unnecessary gatherings without valid reason. In the event of essential ceremonies, the Prime Minister recommends to follow the measures which aim to prevent against the Covid-19 in particular the washing of the hands with clean water and soap as well as the physical and social distancing.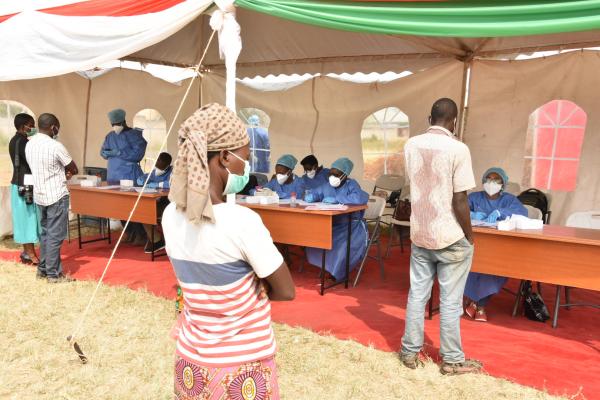 His Excellency Alain GuillaumeBunyoni also called on any Burundian citizen who experiences confusion or who equates the symptoms of this disease to those of malaria, not to hesitate to get tested. He also asked those who go to this screening center to follow the instructions given to them and if they test positive, to respect the advice of doctors and to take the medication regularly.
In conclusion, the Prime Minister of Burundi asked the population not to neglect the Covid-19 pandemic and to respond massively to this campaign organized by the Government of Burundi, which will last 3 months.
(source. www.rtnb.bi)
Read more in this article:
Presentation of Burundi's congratulations on behalf of Mrs. Bintou Keita, UnderSecretary General for Africa
Audiences with the Ambassador of the Arab Republic of Egypt in Burundi and the Head of Mission of WHO
Strengthening cooperation with partner countries
Covid-19: UNDP grants equipment to the Government of Burundi
Burundi celebrates the international day of destruction of small arms
Covid-19: UNDP grants equipment to the Government of Burundi
Media Release Consecutive to the Cabinet meeting held on Wednesday 08 July 2020