BDEAC, of which Burundi is now a shareholder, wishes to concretize its partnership by participating in the financing of priority development projects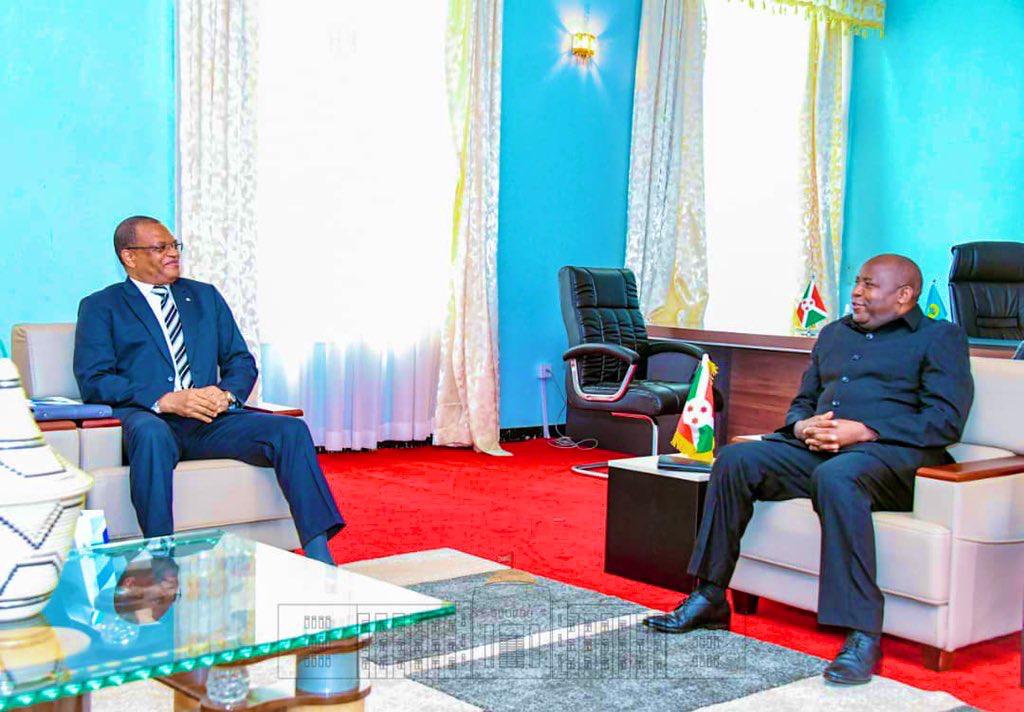 On wednesday, may 04, 2022, the President of the Republic of Burundi His Excellency Evariste NDAYISHIMIYE received in audience Mr. Fortunato-Ofa Mbo Nchama, President of the Development Bank of Central African States - BDEAC - who was accompanied by the Director of Operations within this regional body.
As Burundi is now a shareholder of BDEAC, the management team indicated that it is making this trip to Gitega to receive formal guidelines from the Government of Burundi regarding development projects requiring priority support and funding:
"To accomplish our mission of supporting the development of States, it is our duty to inquire about the priority projects established by them and to assess their compatibility because we have the firm will to concretize our partnership. After fruitful working sessions with the technicians of the Ministry of Finance and Planning, we want to get to hit up on the matter and the Highest Authority of the country is better placed to provide us with formal guidelines," said Mr. Fortunato-Ofa Mbo Nchama.
The Head of State His Excellency Evariste NDAYISHIMIYE welcomed the dynamism and commitment of the BDEAC leaders who made the partnership with Burundi to have a concrete impact on improving the living conditions of the population. He assured them of the full cooperation of the Government and the people of Burundi who aspire only to the development of their country: "Burundians are trying to make up for the time lost in decades of conflict. We are delighted to be able to count on partners in good faith to support Burundi's economic recovery efforts. Now is the time to rebuild."
President Evariste NDAYISHIMIYE indicated that the Government wishes to concentrate its efforts on the development and industrialization of the agro-food sector, the mining sector and road and rail infrastructure which would accelerate the opening-up of Burundi.
At the end of this audience, it was agreed that the work will continue as soon as possible under the auspices of the Minister in charge of Finance and Planning who had also taken part in these exchanges.
His Excellency Evariste NDAYISHIMIYE closed the audience by inviting Mr. Fortunato-Ofa Mbo Nchama, in his capacity as a reliable friend and partner of Burundi, to take part in the celebration of the 60th anniversary of the Independence of Burundi which will take place on July 1 of this year.
(Presidency)
More in this edition:
The Presidential Couple enhances the celebration of the International Day of Labor and Workers in Muyinga
President NDAYISHIMIYE urges Burundi's Muslim community to get more involved in development work
The Ministry of Foreign Affairs and Development Cooperation strengthens the culture of good governance, the fight against corruption and economic embezzlement
The Minister in charge of Foreign Affairs is determined to strengthen diplomatic communication
MEDIA RELEASE N°08 CONSECUTIVE TO THE CABINET MEETING HELD ON WEDNESDAY 04 MAY 2022