The Head of State urges Christians in Kiganda to stop idleness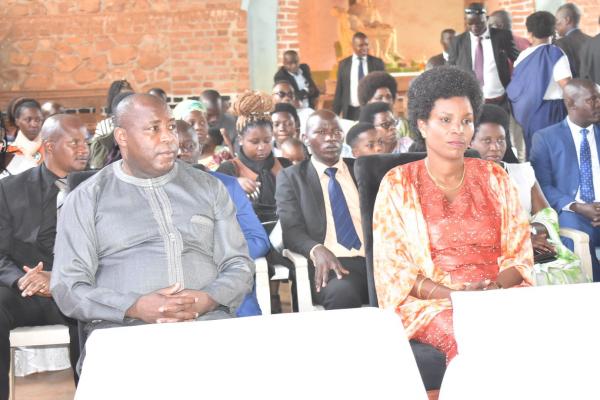 The President of the Republic Evariste NDAYISHIMIYE and his family joined the Christians of the parish of Kiganda, Archdiocese of Bujumbura on sunday prayer on january 9, 2022.
In his greetings, the Head of State Evariste NDAYISHIMIYE wished a happy new year to the Christians of the Kiganda parish and celebrated the warm welcome him by them.
The Head of State stressed that we must give thanks to God for the good Country he granted to the Burundians. During this year dedicated to agriculture, the Head of State urged the population to get down to work and cut short idleness so that every pocket has money. Because, he says, production has increased remarkably over the past year, an eloquent sign that agriculture is the pillar of Burundian development. However, the Head of State Evariste NDAYISHIMIYE also urged the Christians of the Kiganda parish to show unity, love for their neighbor so that everyone can freely go about their daily activities.
During the preaching, Abbé Claver NDAYIRAGIJE, the Parish Priest of Kiganda Parish focused his teachings on the baptism of Jesus. He reminded the Christians present that the baptism of Jesus Christ marks the beginning of his mission on Earth. He also pointed out that, the fact that Jesus Christ was baptized by Baptist, is a sign of courtesy to show the Christian World that this is the only way to contemplate eternal life. According to him, a true Christian must then follow in the footsteps of Jesus Christ, allowing himself to be guided by the Holy Spirit and forsaking sin.
After sunday prayer, the Head of State Evariste NDAYISHIMIYE with his family made a guided visit to the historic site called "Mu masenga ya Kiganda". At this place, dated june 6, 1903, a treaty between Robert Von BERINGE, German resident and King Mwezi Gisabo was signed.
Consequently, this German invasion resulted in the destruction of the royal enclosures, the death of many supporters of the King of Burundi, the raid of the cattle and the surrender of King Mwezi Gisabo thus formalizing the German colonization and ending independence from Burundi, said Novence Nkeshimana, the tourist guide of this historic site.
(wwww.rtnb.bi)
More in this edition:
The First Lady shares the joy of Christmas and New Year with the Orphans of ANSS and SWAA-Burundi
Focus on individuals benefiting from the Head of State's proximity policy
Senate Speaker urges teachers to work diligently
Prime Minister preaches Trust in God
Containment point at the port of Rumonge, one of the solutions to deal with Covid19
Gitega / Itaba: Bagumyabanga of CNDD-FDD exchange New Year's greetings
Gitega: the association "Femme Intwari" launches a national campaign of assistance to the vulnerable