Prayer of thanksgiving: the presidential couple participates in the opening mass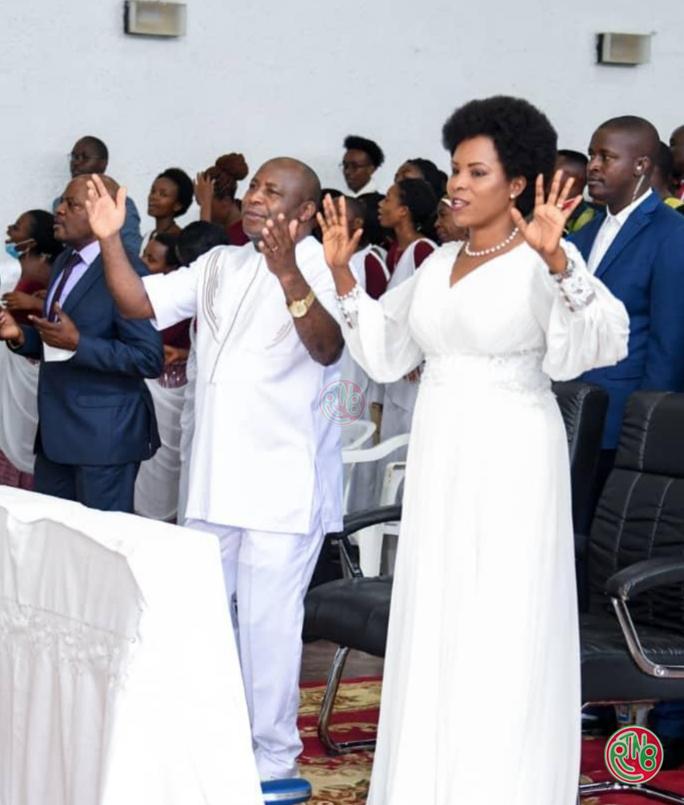 The national prayer of thanksgiving organized by the Burundian State on the occasion of the end of the year 2021, began on thursday, december 27, 2021 with a mass said by the Archbishop of Bujumbura Monsignor Gervais Banshimiyubusa, at the Marian Sanctuary Mont Sion of Gikungu. The presidential couple and other authorities participated in this special Eucharistic celebration.
The Archbishop of Bujumbura Gervais BANSHIMIYUBUSA who presided over the Mass at Mont Sion of Gikungu thanked the President of the Republic for having chosen the Sanctuary for the opening Mass and the city of Bujumbura as the place of the national prayer of action please.
Archbishop Gervais BANSHIMIYUBUSA clarified that prayer is an opportunity to thank the Lord for all his blessings that he continues to grant to Burundi through the action of the various authorities and everyone. It is also an opportunity to ask for the ability to do the will of God, but each time in keeping with his commandments.
In his homily, the Archbishop of Bujumbura thanked the Head of State for certain flagship actions such as the release of prisoners, the revitalization of relations between Burundi and the international community, the meetings aimed at reflecting together on ways and means to develop the Country, the supervision of young people through programs intended to help them prepare for a bright future. He expressed the wish that all the good intentions of the head of state could be translated into action.
Bishop Gervais BANSHIMIYUBUSA asked the faithful to pray for the Head of State so that he may have good health, so that the Lord guides him each time in the choice of collaborators with the required capacities to help him lead the country as well as in choosing good advisers who do not act out of hypocrisy, so that the Country continues to develop.
Speaking, Head of State His Excellency Evariste BANSHIMIYUBUSA first wished everyone a Merry Christmas. He congratulated the Burundians who are beginning to understand that if they exist it is because there is a creator who put them on earth and that they must respect, obey and thank.
During the Mass, the Head of State and the First Lady successively prayed for the Country and the people of Burundi. They asked Almighty God to bless the Burundians by granting them a heart full of love, unity, patience and courage in the face of trials. They also asked God to bless the Burundian soil and all the development programs underway. At the start of Mass, the rector of the Mont Sion Marian Shrine in Gikungu welcomed the Head of State by offering him a painting of Mary mother of Jesus Christ as a thank you (rtnb)
More in this edition:
"The grace of God has always preserved Burundi"
Senate Chairman calls on leaders to combine work with prayer
The President of the Republic His Excellency Evariste NDAYISHIMIYE calls on the Burundians to change to have a heart that aspires to development
The President of the Republic His Excellency Evariste NDAYISHIMIYE talks with the population in the public
Closing of the National Prayer of Thanksgiving at the end of the year