The Head of State receives Congolese Minister of Agriculture in Makamba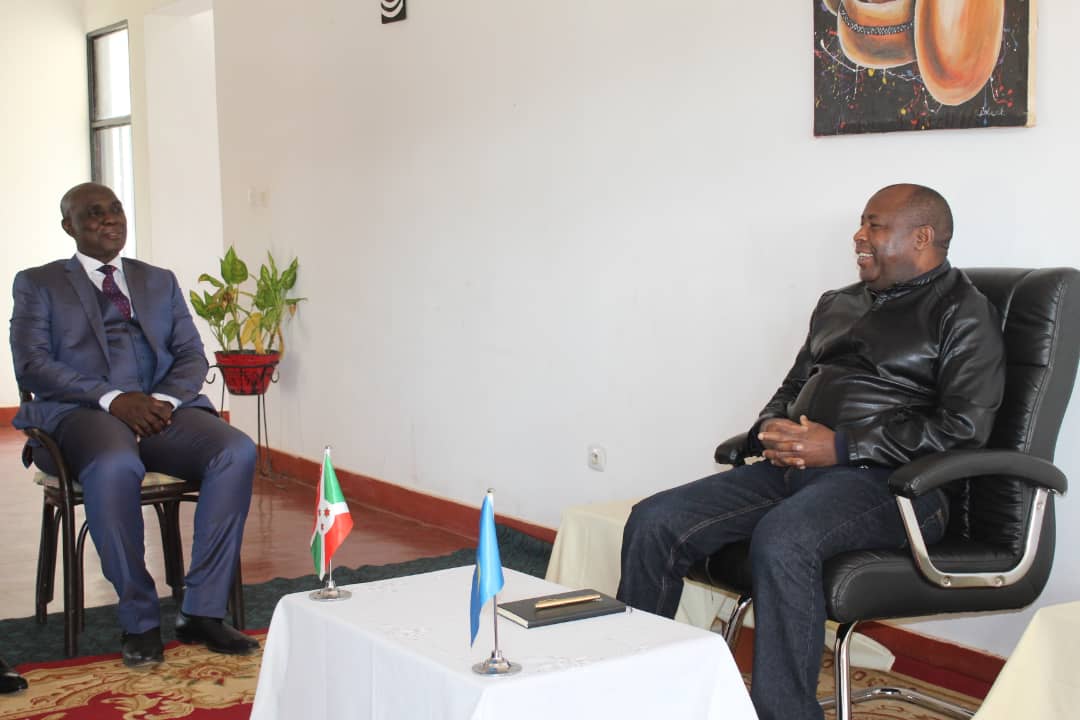 On monday, november 22, 2021, the President of the Republic His Excellency Evariste NDAYISHIMIYE received in Makamba, the Congolese Minister of Agriculture Mr. M'ZINGA Birihanze Désiré who concludes a five-day visit to Burundi, as part of the realization of the Cooperation Agreements signed in july 2021 between Burundi and the Democratic Republic of Congo, it was during the visit of the Burundian President His Excellency Evariste NDAYISHIMIYE in the DRC.
During this hearing, the Burundian Number One outlined various agricultural strategies undertaken by the Burundian Government in order to increase production. He spoke in particular of the awareness of new agricultural techniques such as the rehabilitation and development of land to increase production, the initiative campaign with quick results, the policy of sensitizing all officials to have at least one agricultural project so that the peasant mass can imitate new agricultural technologies, facilitate businessmen to invest in this area so that the processing and marketing of agricultural products can win the bet, etc.
In an interview with the press at the end of the hearing, the Congolese Minister of Agriculture recalled that during His Excellency Evariste NDAYISHIMIYE's visit to the DRC, some of the points discussed with his Congolese counterpart in matters of bilateral cooperation were focused on strengthening and developing the agricultural sector, exchanging agricultural experience, etc."It is in this context that I and my entire delegation have just made a field visit, in particular to the various agro-pastoral sites set up in various provinces of Burundi, to strengthen our capacities and to discover the experience of our Burundian brothers in agriculture, "He said.
As such, he appreciates and encourages good agricultural practices which have contributed to the increase in production in Burundi. He greatly salutes the agricultural achievements of the Burundian people, considered as an agricultural army where the Supreme Commander himself is on the ground to fight mercilessly hunger and poverty.
"The mobilization of the Burundian population by their Dear President Himself on the policy of soil study, land development, irrigation, anti-erosion control, control of marshes, pooling of land,… has enabled the Burundians to cultivate and produce a lot at all times of the year, even during the dry season " " The experience we have just received from our Burundian brothers will help us to know how to value our lands in the DRC, so that Central Africa can feed a large part of the continent ", He insisted.
The Congolese Minister of Agriculture salutes, to this end, the determination of the President of Burundi His Excellency Evariste NDAYISHIMIYE, whom he describes as "Supreme Agricultural Commander", to have mobilized all the agricultural battalions in all countries to eradicate forever hunger. in Burundi, to the point of even having an overproduction of certain agricultural products. This is the case with maize.
(www.presidence.gov.bi)
More in this edition:
COMESA will adopt an economic integration strategy
Burundian women called on to support peacekeeping
Ombusman: Community networks help reduce conflict
FIGA: Young people asked to develop eligible projects
Media release no 29 consecutive to the Cabinet meeting held on Wednesday 24 November 2021