"Youth should no longer be synonymous with unconsciousness"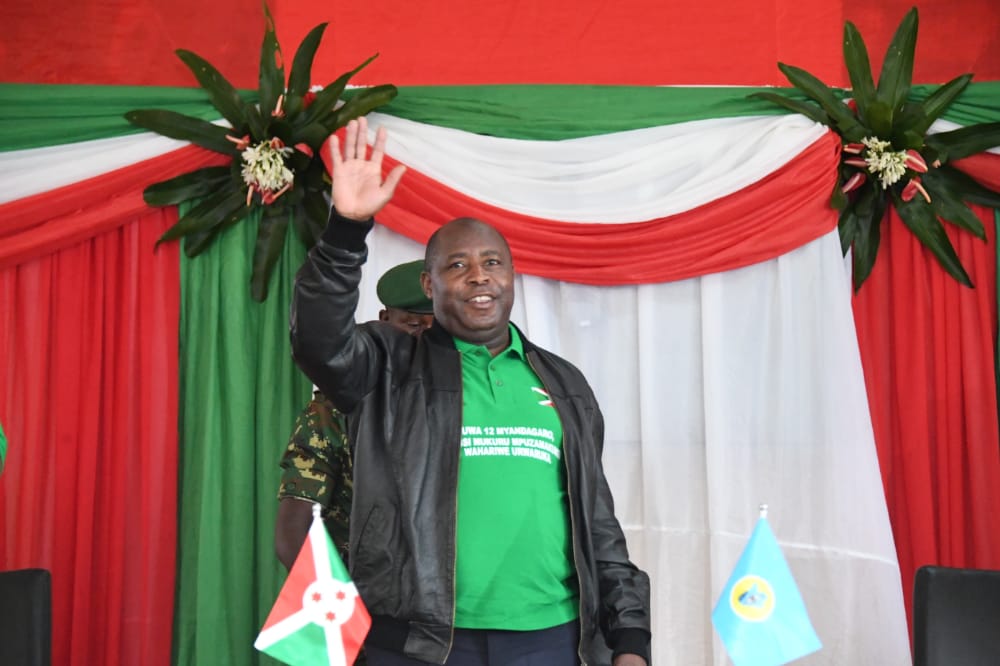 On Thursday August 12, 2021, the President of the Republic His Excellency Evariste Ndayishimiye heightens with his presence the ceremonies marking the International Youth Day organized in Gitega under the theme: "Youth, the future of the country is in our hands. Let us join forces to create self-development projects to promote sustainable development in our country".
Several Members of the Government, the Resident Coordinator of the United Nations System in Burundi, Provincial Governors, Youth Empowerment Project Managers, as well as hundreds of young people from all the provinces of Burundi also took part in these ceremonies.
Taking the floor successively to welcome the Father of the Nation, the Governor of Gitega and Madam the Resident Coordinator of the United Nations system in Burundi both praised the efforts of the Government of Burundi in the empowerment of young people, through quality training and support in carrying out development projects.
In his introductory speech, the Minister in charge of Youth, Sports and Culture welcomed the presence of the Head of State alongside the Youth of Burundi on this day dedicated to them: "The presence of the highest authorities reflects the interest that the Government of Burundi has in the youth of the country".
By welcoming the many achievements and innovations of young Burundians, Minister Ezéchiel Nibigira informed the Young Entrepreneurs that the Government of Burundi has already started granting loans to bankable development projects through the Investment Bank for the Youth ("BIJE), the Economic Autonomisation Program and Job for the Youth (PAEEJ) and the Impulsion Funds for Warranty and Accompaniment (FIGA).
Engaging on the subject, the Head of State H.E Evariste Ndayishimiye said empowering youth is a priority for the Burundian Government. He took this opportunity to lead a moralization session for Youth Representatives who are called to wake up and take charge of their destiny and that of Burundi:
"Youth should no longer be synonymous with unconsciousness. Representing more than half of the national population, Burundian youth and adolescents have enormous potential capable of accelerating the socio-economic development of Burundi".
The President of the Republic H.E Evariste Ndayishimiye ended the moralization session with a call for a return to the moral values of Ubuntu and the ethical ethics of the teaching profession. He instructed the Minister of National Education, who was present in the session, to do everything possible to guarantee quality training for the Burundian Youth because education is the only investment that will make possible the emergence of a new generation of young people who will perpetuate the political and socio-economic achievements.
(www.presidence.gov.bi)
More in this article:
The Presidential Couple celebrates the communal feast in Giheta
The CNDD-FDD Women's League supports the extension of the URUMURI center in Gitega
The First Lady calls for the support of orphans
China-Burundi: Minister of Agriculture visits Gihanga agricultural pilot center
The Society of Agriculture and Livestock (SODEA) retrocedes 364 ha in Bubanza province to the State