"It is through reconciliation that the province of Bururi will achieve the long-awaited socio-economic development"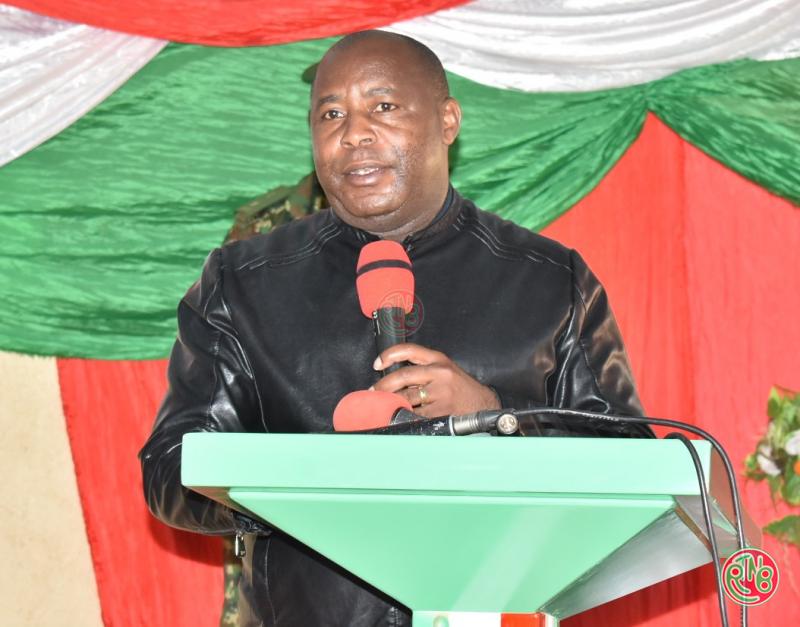 The President of the Republic of Burundi His Excellency Evariste Ndayishimiye made his remarks during a moralization session on good governance that he animated this Tuesday, May 18, 2021 for the elected and political Officials, religious and administrative Officials from Bururi province, located in southern Burundi.
After the welcoming speech by the Governor of Bururi province, this moralization session offered the President of the Republic the opportunity to return to the fundamentals of a Responsible and Laborious State. He insisted on the urgency of developing and thoroughly reforming Burundi through the promotion of good governance in the sectors of national life. His Excellency Evariste Ndayishimiye, in several cases, urged political leaders to be true servants of the people:
"Good governance is our priority because it will depend on the socio-economic development of Burundi. Let public leaders know that the time for laxity is over".
President Ndayishimiye warned the leaders who "serve themselves" instead of serving the people: "I will not rest until the day when every Burundian will be respected in all his rights. I demand exemplarity and humility of all public leaders, as good servants of the people. I will never tolerate corruption and injustice ".
The Head of State His Excellency Evariste Ndayishimiye deplored the selfish and irresponsible behavior of certain political and administrative Officials and urged the Burundians to denounce all cases of injustice and embezzlement. He asked the competent authorities to crack down on the proven culprits.
Before closing the meeting, the Head of State heard the grievances of the natives of Bururi province who all indicated that only true reconciliation will allow the socio-economic development of the province. He pledged to support all their efforts "to break with the old divisionist mentalities inherited from our painful past".
(Source: www.presidence.gov.bi)
More in this article:
The new Minister of Trade, Transport, Industry and Tourism has sworn in before the Head of State
Two Special Envoys received by the President of Tanzania
National Assembly: adoption of the bill ratifying the donation agreements in support of the KIRA health project
Minister of Foreign Affairs and Development Cooperation receives new Chinese Ambassador to Burundi
Awareness-raising workshop on sub-regional and regional commitments made by Burundi within the framework of regional integration
MEDIA RELEASE NO 19 CONSECUTIVE TO THE CABINET MEETING HELD ON WEDNESDAY 19 MAY 2021