Kayanza: Head of state officially launches macadamia
The Head of State His Excellency Pierre Nkurunziza on Wednesday, 4 March 2020, officially launched the macadamia industry in Burundi. This event took place on Gashibuka Hill in Muhanga commune in Kayanza province. After the launch, two thousand macadamia plants were planted on this hill.
The Cooperative for the Promotion of Macadamia in Burundi (COPROMABU) responsible for the extension of this plant distributed at the same time seventeen thousand macadamia plants to other development cooperatives that have, in their programs, the development of this sector.
According to COPROMABU officials, 1kg of macadamia costs between BIF 2000 and 2500. They also explained that a macadamia plant produced after 5 years between 20 and 50 kg but aged 10 years, it produces between 100 and 150kg of macadamia.
On this occasion, the Head of State gave thanks to God who granted Burundi a climate and soil favorable to agriculture where several kinds of crops grow.
He welcomed the initiative of the Ministry of Environment, Agriculture and Livestock, which has in its program the extension of this export plant throughout the country and which has decided to make it a national program.
For His Excellency Pierre Nkurunziza, the macadamia will be able to provide the country with foreign currency in addition to its nutritional content that will benefit the Burundian population. He recommended that every Burundian grow this plant not only to sell it but also to consume its products in order to have good health.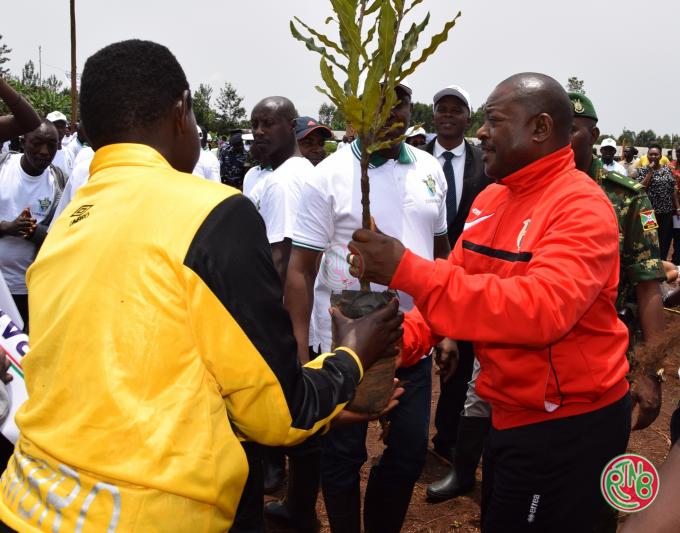 The Head of State gave a nod to the macadamia farmers. He reminded them that production will depend on the maintenance they have brought to this plant. And to invite them to grow macadamia on a large scale and take care of this plant.
The President of the Republic encouraged COPROMABU to move forward in its macadamia extension business and promised to stand by him to support him.
As a thanks, COPROMABU officials offered the Head of State a heifer in the making.After Muhanga, the Head of State went to visit the provincial office of the CNNDDFDD
party under construction in the capital of Kayanza province.
(source: www.rtnb.bi)
Also in this article:
Kirundo: Head of State inaugurates Buvyukana mining site
Ngozi/Rutanga : Head of state launches crop season B
Visit of the delegation of the Advisory Council for Women, Peace and Security of the Great Lakes Region
The Ministry in charge of Health prepares to deal with the coronavirus
CVR soon begins Mashitsi site