Official launch of the technical control modernisation project
The second Vice-President of the Republic, His Excellency Joseph Butore, officially launched the project to modernise technical control services and grant transport permits at the headquarters of the transit authority OTRACO, on 11 February 2020.
After taking a guided tour of all the modernised services to see the process of granting these documents and verifying the condition of the vehicle, H.E. Joseph Butore congratulated the OTRACO authorities, technicians and senior Ministries for the step in technical control to strengthen road safety in Burundi.
He said that this system will improve quality services in real time and contribute to the tax increase because, the system is computerized, there will be no more leakage from the public treasury, said the second Vice-President of the Republic.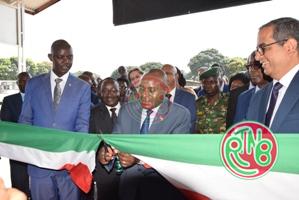 H.E. Joseph Butore also thanked the public-private partnership that has made a significant contribution to the implementation of this project. He took the opportunity to call on other inves-tors to invest in other sectors of na-tional life to increase production. This is an eloquent sign that public-private partnership is possible in Burundi, he insisted.
To make this partnership operational on behalf of the Government, His Excellency Joseph Butore reiterated the Government's commitment to listen to them, guide them and build relationships with them in order to develop the country in all sectors. He called on OTRACO officials to extend these modernised services within the country, within the organisation's agencies. To close, he urged the OTRACO authorities to implement the theories they demonstrated during the guided tour.
It should be noted that the documents required to issue the technical check are: any identity document (passport, driver's licence, national identity card), the current insurance, the current technical check, a passport photo and the checklist of inspection tasks under Law No. 1/26 of November 23, 2012 with traffic code, Chapter IV Article 149 consists of vehicle identification, braking system, steering, visibility, lighting and signage as well as ground link.
(source: www.rtnb.bi)
Also in this article:
National Assembly: towards regulating pharmaceutical prices in Burundi
Minister of Foreign Affairs attends African Union Summit of Heads of State and Government in Addis Abeba.
A training session on the activities of the Truth and Reconciliation Commission for the staff of the Ministry of Foreign Affairs.
There are no locusts in Burundi
Media release consecutive to the Cabinet meeting held on Wednesday 12 February 2020
To read more, click on the link below