The Head of State meets Provincial Governors
The President of the Republic H.E Pi-erre Nkurunziza held a meeting with the Governors of the provinces on Tuesday February 04, 2020 in the province of Ngozi. During this meeting, the Head of State and Government has spoken about the assessment of the security during the celebration of the festivities of the end and beginning of the year, the management of garbage and the strong pluviometry , etc. As far as the management of garbage is con-cerned, the Head of State has invited entrepreneurs to invest in the transfor-mation of it in energy.
At the end of this meeting which was held behind closed doors, the Deputy Spokesperson of the President of the Republic Mr. Alain DiomèdeNzeyimana indicated that all the participants in this meeting were delighted that the end of the year celebrations were celebrated safely across the country.
According to Mr. Alain DiomèdeNzeyimana, to cope with the heavy rainfall which is shaking the East African region in large part, the Head of State first congratulated the Burundians for the level of solidarity that Burundians reached in those days, where effects of heavy rains have touched a part of the population.
Regarding the management of garbage, the Governor of Cibitoke said that there are entrepreneurs who have started to transform it into energy. To conclude, the President of the Republic invited the Provincial Governors to follow closely the teachings of different churches as Burundi approaches the general elections of 2020.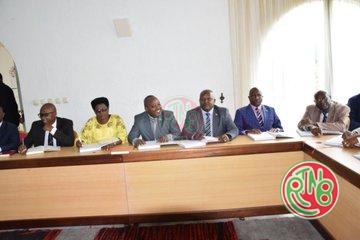 On the sidelines of this meeting, the Head of State H.E Pierre Nkurunziza granted food assistance to the center for young people living with a disability called "Jehokuki" located in the locality of Vyerwa in the commune and province of Ngozi.
This assistance consisted of 1 ton of rice, 1 ton of potatoes and 500 kg of beans. This center accommodates 89 young people living with disabilities. The Deputy Representative of this association ''JehoKuki'' Mr. Anatole Ntanyungu, thanked the Head of State and the Government who has not stopped showingcharitable gesture to this center since its creation.
(Source: RTNB and edited by the MFA-Newsroom)
To read more in this article, click the link below.